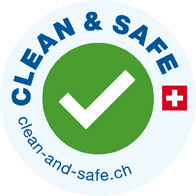 «Your health and well-being are very Important to us!»
The health and safety of our guests and employees is our top priority at Restaurant Walliser Keller and Best Western Plus Hotel Zürcherhof!
We have been awarded the "Clean & Safe" label by Switzerland Tourism and hotelleriesuisse. We continuously adapt the protective measures to the changing requirements and recommendations and our employees are continuously instructed.
We protect you and our employees with an extended protection concept. A few examples of our measures:
- We have a pure fresh-air ventilation system in the Restaurant Walliser Keller, which renews the air more than 5 times per hour.
- On request we serve fondue and bread in single portions.
- At breakfast, we have the food portioned on the buffet and egg dishes are freshly prepared on your request.
- Enjoy breakfast in your room. We offer free room service.
- The pillows in the hotel rooms are disinfected with steam for each new guest. This way Corona has no chance to spend the night with you.
Further information about our protection concept can be found here: https://www.myswitzerland.com/de-ch/planung/ueber-die-schweiz/clean-safe/
Leave these "crazy times" outside our hotel door and enjoy a few carefree and safe hours with us.
We are looking forward to your visit! See you soon 😊
Martin Spycher and the Team from the Restaurant Walliser Keller & Hotel Zürcherhof
Zähringerstrasse 21
Zürich, 8001, Schweiz